2020 Season Wrap-Up: Looking back, and looking ahead.
2020 Season Wrap-Up: Looking back, and looking ahead.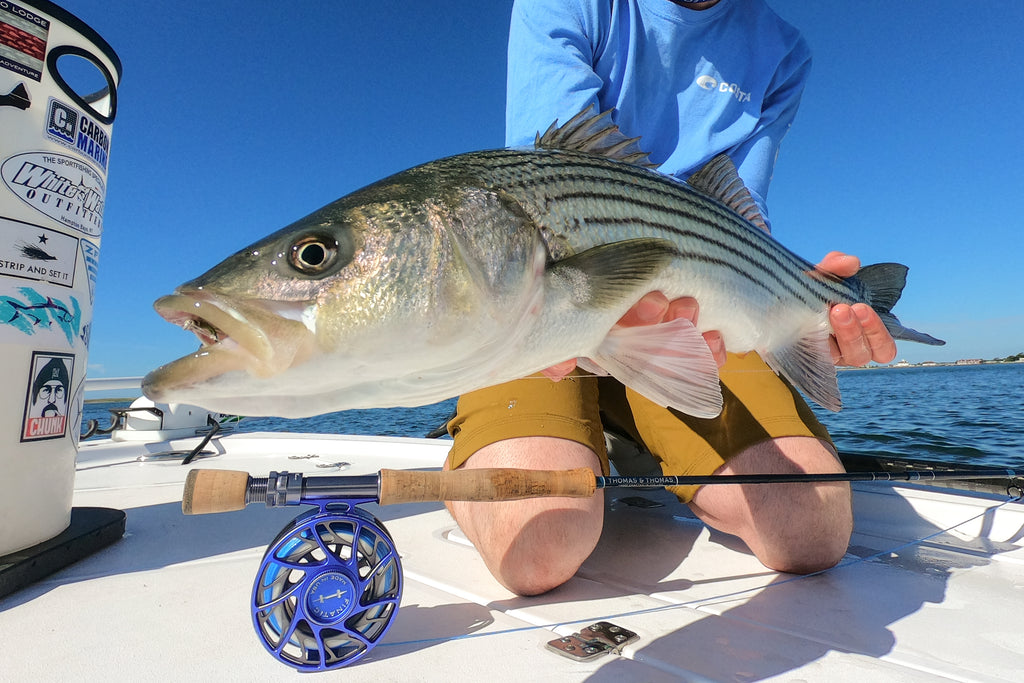 Looking back, I think it's safe to say that 2020 certainly won't go down as one of the best years in the history of the world. What started off as a refreshing start to a new year quickly changed as COVID reared it's ugly head in late winter. What we were all hoping would be a grand new year ended up becoming shadowed by the effects of sickness combined with despair and loss from mandated lockdowns and restrictions. This certainly was not an easy year for anybody. The one saving grace is that we were still able to get out and fish. Actually, fishing proved to be the perfect activity. The ability to slow down, get outside, free the mind, and also provide food for your family is something that I think we all appreciate as anglers. Fishing gave us hope and clarity in some very uncertain times. And really, it always seems to have that effect for me personally when the going gets tough. From Tuna to Tautog, the excellent fishing season that we had locally was the medicine that what we needed in these times.
I think it's safe to say we saw more people fishing this year than we ever have before. With a huge amount of newcomers to the sport just looking to get outside, the veteran anglers, and everybody in between, effort was at an all time high starting off the season. The spring run kicked off with some very solid striper fishing. By the end of late April, migratory schoolies started showing up in our neck of the woods in Shinnecock and Moriches Bay, and the Peconics. Shortly after, the "slot-size" fish rolled in. The most effective way to catch these early season fish was by taking the light tackle approach on these smaller fish with lures and flies.
Considering cows. This year, from Moriches to Montauk, we were again blessed with an insane bunker-fueled striper fishery in the ocean that allowed us to catch and release some of the largest fish of the season. Live-lining around the teeming bunker pods is always the most effective way to catch these fish. However, there were also fish caught on large topwater plugs like the Doc Spook, and large flies as well. To catch them on lures and flies, you really had to get lucky and come across groups fish that were really working the schools. This happened a few times in the summer, and also in the fall in Montauk. The blitzes in the area surrounding Montauk were not necessarily JUST small fish this year. Those classic blitzes were "just like the old days" throughout the majority of our fall run, though. It was a fun run on our sand the beaches too. Huge numbers of small fish, with lots of opportunities al slot fish, and 20 to 30 lb + fish were not uncommon. With the plethora of sandeels, it was a "diamond jig or bucktail" year. But soft plastics like the Bill Hurley sandeels were excellent choices as well.
Shortly after our "slot-sized" bass came the our spring bluefish. Luckily this run we seem to have every year was phenomenal with big "tackle buster" blues. Where these fish go in the fall seems to be anybody's guess. But, we're lucky to have a great push of these fish in the spring. A lot of people often don't give them the appreciation that they deserve. But personally, they are one of my favorites to target due to their sheer aggression and fighting power. In mid-may, our big hungry bluefish came into the inlets and bays, and they were feeding voraciously. The nice thing about these fish is that there were opportunities to catch them in many different ways. Topwater plugs, swinging bucktails in the inlet rips, or sight-fishing for them back inside the bay offered opportunity for all types of anglers.
Taking a detour from inshore fishing, I'm going to go ahead and proclaim 2020 as "the year of the Tuna". This season, tuna fishing was just about as good as it gets. Our "near-shore" tuna fishery kicked off with a bang in June, and it lasted all the way through November (to be honest, it's actually still somewhat happening to our west as I write this). Throughout the early summer, customers trolling our custom spreader bars and smaller lures did a number on the "under" to "medium" sized bluefins. Larger fish were taken by trolling ballyhoo or Ron-Z's behind a skirted lure like a Joe Shute.
The "light tackle" tuna action for anglers casting lures to busting fish was also world class this season. Some fo the feeds were things that many were describing as "Nat Geo" quality. Smaller lures like Jack Fin LARA's, and Auser Ganzo's were perfect for fish on small bait. When they were eating larger baits like halfbeaks, Strategic Angler Espadas were perfect. As the summer rolled on, fish began to hang deeper, primarily feeding on sandeels. Jig and Pop anglers were now able to employ the jig technique having huge success with slim profile jigs like the Nomad Streaker and Mustad Moon Riser, with many of them taking 100 to 200 lb. class fish on spinning rods. A "dead-sticked" Ron-Z was also responsible for quite a few fish hitting the deck as well. The invasion of yellowfins mixing in with the bluefins eventually added to the fun.
One thing that we've been noticing from year to year is that we seem to have a developing fishery with an increasing number of large to true giant bluefins being caught. This year was remarkable for giants. People that put in the effort and fished live baits on heavy tackle were rewarded with the largest of bluefin tuna in the fall. With some fish topping the 1000 lb. mark. In the future it seems that this is going to be a thing that happens more regularly, giving us something to look forward to.
You'd think that fall tuna fishing, and stripers would be enough to keep people busy. But, then came tautog season. This fall was probably one of the best seasons in recent memory that we've had for blackfish in a long time. Locally, the inlet jetties produced keeper-sized fish throughout nearly the entire month of October for shore bound anglers. The rocky structure on the North Fork and the islands also had no shortage of fish hanging on shallow structure as well. When the fish were up shallow in 10-40 feet of water, caching them on jigs seemed to be most productive. It seemed like the chartreuse/orange color jigs were a favorite to pair with green crabs this year.
With our stellar fishing season in an otherwise challenging year coming to a close, I want to say one thing. THANK YOU! To our customers for your continued support. We were fortunate to be able to keep going through these times thanks to you. We pride ourselves on making our living in the industry, by helping people get out on the water to not only catch fish, but enjoy time with their families and appreciate the wild things that we are so fortunate to have locally. We truly appreciate your business, without you, none of what we do would be possible. Looking ahead to next season, we hope to see a repeat of this year, minus the COVID things. Stop in to see us over the coming months, we're here all winter long to help you get prepped for the spring. From our WWO family to yours - Happy Holidays!
- Jeff Lomonaco