The 12 Days of Fishmas: Holiday Gift Buying Guide
The 12 Days of Fishmas: Holiday Gift Buying Guide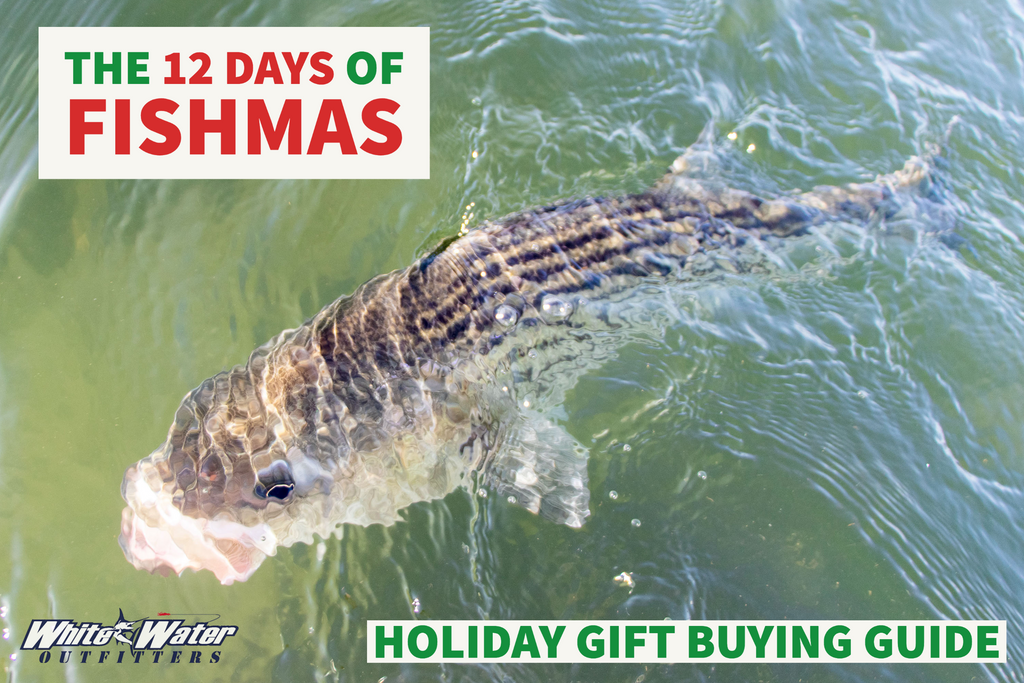 The 12 days of FISHmas. Check out this gift guide if you're having trouble finding presents for the fisherman in your life. Inshore, Offshore, Surf, and Fly - this gift guide should make your holiday shopping a little easier for you. See below!
INSHORE
1) Simms Challenger Fishing Jacket
Any serious fisherman should have a good set of foul weather gear on board at all times, making this jacket a perfect gift for all anglers (aside from you fair-weather fisherman). If it has the Simms label on it, you already know it's bound to be good. For those of us who put credence in the old saying "the fish are already wet!", this jacket is sure to please. Whether you're just trying to stay dry in a crosswind, shielding yourself from a cool morning breeze, or out bailing fish in the pouring rain, this jacket is a winner and will keep your angler on the water while others are sitting on the couch. At a friendly price point of $199.99, which is impressive considering that it features heavy duty breathable Toray fabric, this jacket is hard to beat. Pair it with the matching bibs and the angler in your life will be looking like a pro next season.
2) St. Croix Mojo Inshore Series Rods
We recently started carrying St. Croix Rods here at the shop. And man did we do it just in time! St. Croix just re-designed their renowned Mojo Inshore series for 2021, and it seems that they really hit the nail on the head with this one with an excellent series of rods for under $200. They really had Northeast fishermen in mind when they designed this series of rods. There are so many models that they can cover just about every fishing inshore fishing situation you could think of. You might not be able to conceal this gift very well, but they'll be pleased to see a St. Croix when they open it up!
Because you've gotta have speedster stocking stuffers! The JoeBaggs resin jigs are made of... you guessed it, resin! So, they're extremely durable and can handle a lot of abuse from our beloved little tunny. These simple little lures are a perfect choice if you have a fisherman that rants and raves, and maybe even shakes uncontrollably any time the word ALBIE is mentioned in late summer and fall. This behavior is not unwarranted. Fishing for albies is probably some of the most exciting inshore fishing that we have in the northeast. It's a long wait until the fall run, but it's little reminders like this that will help your resident albie addict make it through a long winter.
OFFSHORE
1) Penn Limited Edition International 50VISW LIBERTY Reel
Do you have a big game fisherman in your life that is proud of their country, and feels strongly about the importance of civil liberties? Well, boy do we have the perfect gift for you! We only have a few more of these limited release Penn International 50VISW's in stock, and when they're gone, they're gone. These reels present beautifully in the custom wooden box that they come in. Every reel has an American flag pattern spool, with the engraving "Give me liberty, or give me death." on the side, and "United we stand." across the top bar. It looks just as good sitting on a shelf in it's box as it does mounted to custom WWO Stand-Up rod (Yes, we can build them in red, white, and blue. ;) ) Plain and simple, these reels are bad ass. Live free, or die.
2) WWO Custom "Six Shuter" Joe Shute Kit
You can never have enough Joe Shutes. Every tuna fisherman knows this. Unfortunately however, they don't look very attractive in the tubes un-rigged. So, not only did we package them for you in a nice roll-up bag, we went ahead and did the rigging too. It's all about the presentation. As the clever name implies, these kits come with six rigged Joe Shutes. We offer them in different weight/size combos to accommodate different fishing situations around the world. The "Northeast" kit is probably our most popular model. One thing we don't recommend is putting a pack of ballyhoo under the tree to go with it. Instead, maybe get a couple of packs of 10 inch Ron-Z tails to avoid ruining Christmas morning.
3) Nomad Design DTX Trolling Minnow 220 LRS
These diving plugs come from "Down Unda", and when trolling in the canyons, they'll dive so deep that you'll be thinking they're trying to get back to their homeland. These lures are the hottest new diving plug to hit the market over the last season. If the fisherman in your life is a "bigeye hunter", they should have at least a couple of these on board at all times. These lures feature "autotune" (no, not like T-Pain) that makes them run straight at speeds up to 12 knots which make them excellent for wahoo as well! They come rigged with super strong BKK single hooks, and are ready to take on the biggest of bigeyes. Put one of these down unda-neath this Christmas tree (Sorry, I had to.,.).
SURF
Yes, the black and orange halloween colors may clash with your green and red Christmas theme, but that's ok. Lamiglas has always been known for making some of the best rods in the surfcasting game. It's no surprise that they were able to live up to that with the new Carbon Surf series. Honestly, based on both the appearance and the feel, this rod seems like it would be expensive. You'd be shocked to see the friendly $200 price tag. Our customers had tremendous success with these over this past season, gift one to the surfcaster in your life so they can have that same success in 2021!
2) Turtle Cove BogaGrip Holder
Surfcasters these days carry so many things on them that they look like they might be secretly sneaking off to some Navy SEAL training camp in the middle of the night rather than going fishing. They often carry these nearly indestructible weighing/handling tools called the BogaGrip. If they have the tool, they should have something to properly holster it. Gone are the days of a Boga swinging around, hitting you in the thigh for your entire hour long hike to the secret spot. This custom molded holder is constructed from Kydex, the same heavy duty material that is used for gun holsters. The BogaGrip drops in, stays in place without swinging, and it comes with a heavy duty lanyard to prevent losing it in any clumsy mishaps. Any surfcaster will be stoked to unwrap one of these.
Again, stocking stuffers are a must! Every company makes their own minnow plugs, poppers. etc. But, the Sebile Magic Swimmer is something truly unique. This jointed swimming lure is available in different buoyancies and sizes to accommodate every fishing situation from back bay marsh light tackle topwater, to chucking into a 5 knot current in the deep rips of the Cape Cod Canal. Sutff a Sebile in the ol' surf bag stocking this Christmas!
FLY
1) Ross Evolution R Salt Reels
Don't let the ridiculously light weight and pretty appearance fool you. These reels are an absolute powerhouse for saltwater fly fishermen. It's not often that you can get a US made saltwater worthy large arbor reel with a sealed drag for under $700. Ross reels has found a way. For those who don't know, Ross Reels is owned by Abel. Maker of what are considered some of the highest quality fly reels out there. So, they went ahead and used the same drag system that is found in the rock solid Abel SDS in the Evolution R Salt. This is the perfect gift for a saltwater fly fisherman that needs a reel to hold up to the rigors of our saltwater fisheries, and wants to look fancy while doing it.
2) Thomas & Thomas ZONE Fly Rods
The Rod You Will Eventually Own - a hand-crafted Thomas & Thomas rod at a mid-range price point. The ZONE series from T&T is an excellent gift for anglers that are looking to step up their rod game. To have a rod that is hand-rolled, and hand crafted in the USA (right in Greenfield, MA), one can usually expect to pay upwards of $850. Thomas & Thomas has changed that game with a versatile series of rods from $499 to $549, with models to accommodate everything from brook trout to stripers. It's tough to hide what that 2.5" diameter cylindrical tube might be housing underneath the tree, but they'll surely be pleased when they see that it's a Thomas & Thomas.
3) Simms Dry Creek Z Sling Pack
It seems like the importance of staying dry is a pretty common theme for saltwater fishermen. Especially so for shore bound fly anglers that are often carrying expensive gear. Simms hit a home run when they made this pack. If you have a fly angler that wades deep, or fishes in unrelenting surf, this is the best pack on the market. Sling packs are perfect for quickly accessing your gear, and unlike others out there with clunky waterproof zippers that slow you down by making you pull with all of your might, the Simms features a TruZip self-healing zipper. This zipper is ridiculously smooth, quick and easy, and incredibly strong. You can literally fill this bag with air and stand on it and it won't let out any air, making it a fully submersible waterproof bag.