For Late Fall Action: Diamonds Can't Be Beat
For Late Fall Action: Diamonds Can't Be Beat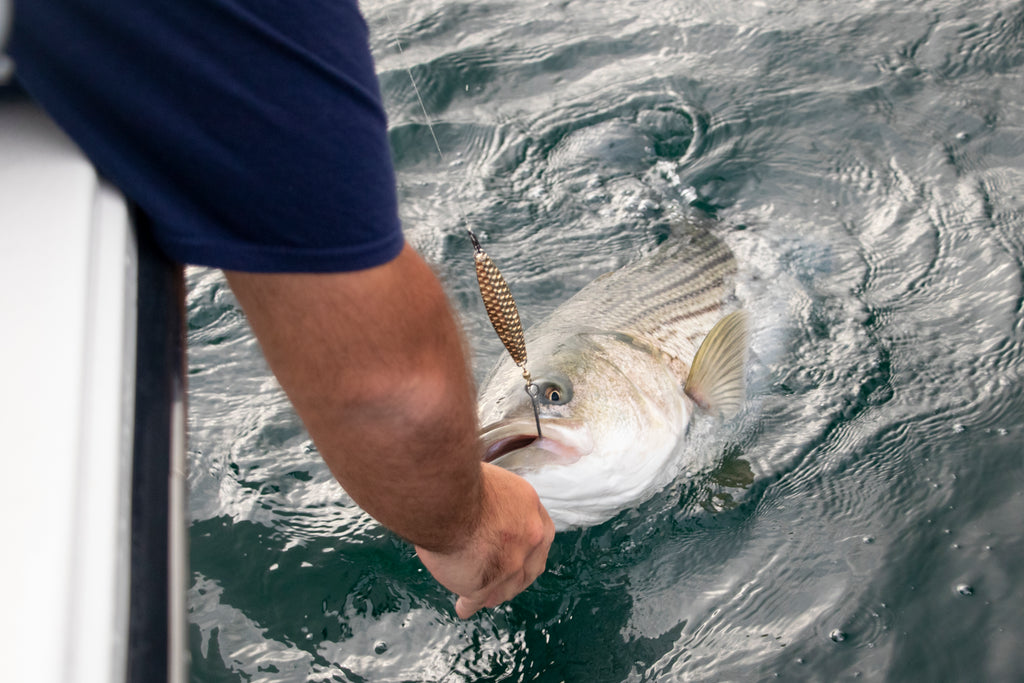 With the fall blitz in full swing as we enter November, anglers are heading to the surf both day and night to battle migrating stripers that, we hope, won't let up until sometime after Thanksgiving. While many think of late bass explosions as concentrated in the suds, there's another run of bass a bit further off the beach that sees the linesiders carving through vast schools of sand eels that stay outside the wash, sliding through from half a mile to a mile or more outside the surf line in 40- to 80-foot depths.
Party boating offers a way to get in on this fun for those without boats. Single hook diamond jigs are the way to go. Silver is the standard but gold is favored by some anglers, especially on overcast days. Photo by OutdoorTom.com
If you think the surf action is hot this time of year, you should try drifting through these clouds of sand eels rigged up with a diamond jig. The action is often fast and furious. With more than reasonable temperatures well into November the past few years, those with enough vessel to get a mile or two outside the inlets have seen some excellent action – often with bigger fish than tight to the beach. If you have the means to get in on this fun be sure to partake. If not, both the party and charter boat fleets can put you on these fish. Expect the schools to work from east to west through the remainder of the run, setting up for superior action at some point off Shinnecock and Moriches inlets, and then Fire Island and Jones inlets.

Of course, not every day brings lock and load action. Just as in any other kind of fishing, many factors influence success. For example, a passing cold front may cause the bait, bass and, if they show in force, bluefish, to slip into deeper water while warming trends often lure them toward shallower depths. Expect the most consistent catches to occur in 40- to 60-foot depths, but don't be afraid to make adjustments if that action fails to materialize.

Keep in mind, also, that bass and blues are usually sight feeding when locked on sand eels and anchovies. Thus, when the water is discolored by storms or strong winds, the bite tends to drop off. In this instance, scout for clear water. If you can locate a distinctive break where underwater visibility improves by a few feet, expect both bass and blues to be stacked right along the edge.

A proper Diamond Jig bluefish for our employee Ethan Ostrander. Photo by Jeff Lomonaco
One last thought on finding the fish: if you are catching a few, but they seem skittish, steam away from the fleet. With a mix of for-hire and private vessels jockeying for position over the schools, sometimes striking out on your own to find less pressured pods pays off with big rewards.

Because the bait that bass and blues key on in this run is slender, flashy and thin in profile, diamond jigs are the primary choice for hooking up. These metal slab lures mimic all of these characteristics and get to the bottom quickly. Additionally, when several anglers are working them at the same time, the jigs look like a small pod of baitfish cutting through the water - a sight that bass and blues have a hard time passing-up.

Another great trait of diamond jigs is they are practically indestructible. Simply put a stone to the hook point now and then to keep it sharp and you are ready to go. These lures can withstand a beating from the crushing jaws of big bass and toothy gator blues. True, they'll come away with denture marks scraped through the finish now and then, but that just breaks up the flash making well-worn diamonds even more attractive.
Diamond jigging is a great way to catch all sizes of fish, from schoolies, to "slots" like this one, and the largest of cows. Photo: Jeff Lomonaco
Setting up for battle is straight forward. Choose a sturdy conventional outfit spooled full of 30-pound test mono or 50- to 65-pound test braid, and set the drag a little on the tight side so you can drive home the point without any doubt.

Attach a 40-inch length of 40- to 50-pound test mono or fluorocarbon leader to the main line with a black barrel swivel and secure the diamond jig to the opposite end. Use a clinch knot to attach the jig if you want a tight, wiggling action that turns on the blues, or use a Palomar knot if you want the lure to have a bit more breath to its swing - a good idea on days when bass dominate or the bite seems a little slow. Either way, choose a "naked" jig (no tube tail). Double-check the drag and you are read to go.

Most fish you'll hook with these setups will be holding close to the bottom, so it is important to select a jig with enough weight to get down fast. Still, you don't want a lifeless slab that is too heavy to flutter in the current, so choose a jig that will register a light tap as opposed to a heavy thud each time it strikes the sea floor. Typically, that means a four to six-ounce diamond.
As for the retrieve, fast and furious cranking tends to trigger smashing strikes from bluefish while bass are more apt to slam something moving at half speed. Allow your jig to free-fall to the bottom, engage the reel and crank up six to eight turns before repeating the process again and again until you either set the hook or need a break.

The ocean bass and blue diamond jig blitz should be in full swing right now. Get out there while there's still some time left in our season!