Spring Fluke Between The Forks
Spring Fluke Between The Forks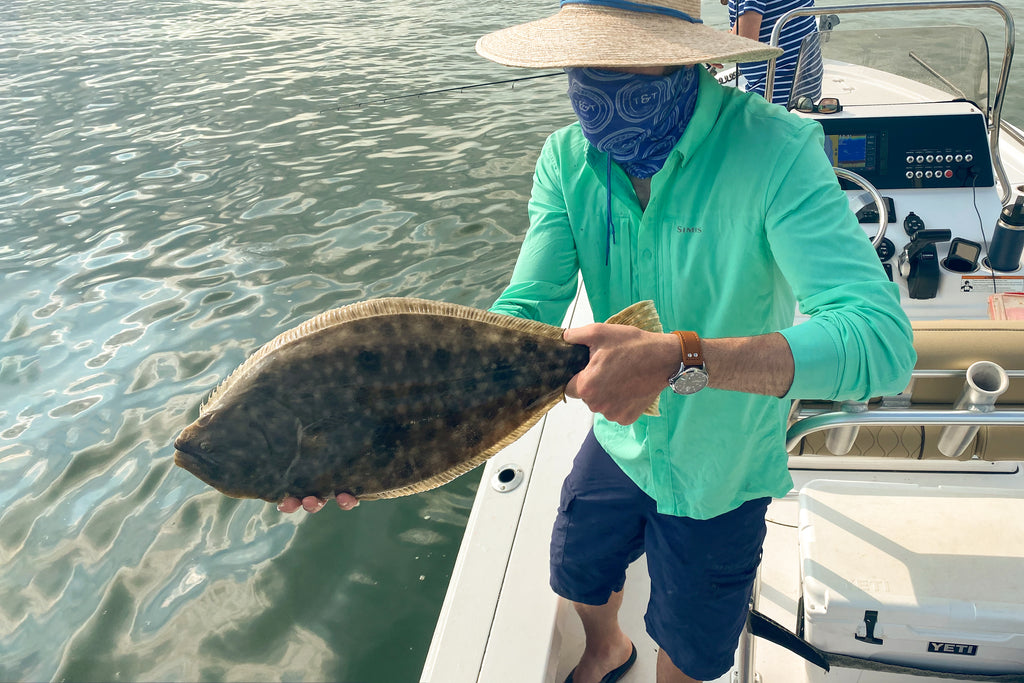 Finally, the long-awaited fluke season is getting underway with anglers allowed to keep four fish each at a minimum size of 19 inches, same as last year. While stripers continue to invade local bays and harbors, and scup, with a season that is open year-round, are certainly an option at many ports, it's the summer flatties that should garner the most attention as the East End's marine fishing season kicks off in earnest.
Early May has long been recognized as prime time to try for doormats in the waters around Greenport. Consider the depths directly in front of Claudio's Restaurant and the Greenlawns area on the west side of Shelter Island the traditional hot spots. For the first month of the season these two locations generally produce more trophy fluke than anywhere else on Long Island.
Spro bucktails tipped with Berkley Gulp!, soft plastic grubs or long strips of squid account for plenty of solid fluke each spring in the waters of Peconic Bay and across the rest of Long Island as well. OutdoorTom.com photo
Adding to the fun here is an excellent opportunity to ice some jumbo porgies as stocks remain in record high territory and some of the year's biggest scup will be sliding into Peconic Bay to spawn and feed. To maximize your chances of catching both fluke and scup at the same time, try baiting a high-low rig with a single 4- to 6-inch strip of squid on each hook. If looking strictly for the doormats, try a whole small squid or a fish strip on the bottom hook and a long strip of squid on the top. Use a size 3/0 – 5/0 widegap-style Owner SSW on the bottom to target the big summer flatties, and a 2/0 gold, beak baitholder-style or Gamakatsu Baitholder hook on top for the porgies. Most big fluke will hit the bottom hook, but the top baitholder will hold a doormat as long as you don't try to overpower it on the way to the surface. Also, a 2/0 size high hook will cut down on the number of small porgies you'll hook, allowing you to put more keepers on ice. The minimum size for porgies remains at 9 inches as of this writing.
Mate Deena Lippman prepared to fillet some solid keeper fluke aboard the Hampton Bays based open boat, Shinnecock Star. OutdoorTom.com photo.
A second option that works well on the biggest fluke is to impale a 6-inch Berkley Gulp!® Nuclear Chicken Saltwater Jigging Grub, 5-inch Berkley Gulp!® Swimming Mullet, or a Berkley Gulp!® Saltwater 6.5" Nemesis on lower hook and a single 5- to 7-inch squid strip (or strip of skimmer clam if you want more porgies) on the top hook. The bottom hook can also be replaced by a 3- to 6-ounce S&S Bucktail tipped with the same trailers or baits already noted. 
Yet another approach to catching a mixed bag of fluke and scup on Peconic Bay is to target them individually. Take your fluke drifts in the traditional hot spots already mentioned, then head over to Jessup Neck and anchor up with the fleet – you can't miss it.
You are probably best off to not chum heavily for the scup at this point in the season since there are likely to be a lot of sea robins around. Try setting up with no chum at first and add a single chum pot loaded with a log of ground clam if the bite doesn't have enough teeth. By the way, be sure to check out our new line-up of St. Croix rods. The newly updated Mojo Inshore series is perfect for these fluke and porgy combo trips. Super sensitive, powerful and light-wight, you'll fish comfortably all day long with these new sticks and they won't bust your budget 
Fish smart on Long Island's East End and plenty of porgies will fill in the gaps between fluke, guaranteeing plenty of fillets for the freezer. OutdoorTom.com photo.
While much of the fluke fishing on the East End is over deep water to start the season, the opposite is often true for waters farther west. On Moriches and Shinnecock bays, back bay prospecting with bucktails and light tackle can be the quickest route to that first keeper since shallow waters deep inside the coves may be as much as six degrees warmer than at the inlets. This spurs the flatties to wander far from the main channels in search of baitfish, squid, mantis shrimp and the like.
Spro bucktails tipped with Berkley Gulp!, soft plastic grubs or long strips of squid account for plenty of solid fluke each spring in the waters of Peconic Bay and across the rest of Long Island as well. OutdoorTom.com photo.
The scenario can be similar in western Great South and South Oyster bays, with initial catches often coming from up inside Reynolds Channel, Massapequa Cove and on the flats around Captree Island. On the North Shore, Smithtown Bay is a great starting place, although if the water still seems chilly the deeper ledges on the near-shore side of Eatons Neck are always worth a shot.
Also, don't forget to give Shinnecock Canal a try just before or just after the locks close if you need a good shore spot. Porgies can be plentiful here throughout May, and a decent number of keeper fluke are pulled at the start of the season on bucktails tipped with squid, Gulp! or spearing.
To check the latest season dates, size limits, creel limits and additional fishing regulations, visit the DEC website here.