Embrace October's Winds
Embrace October's Winds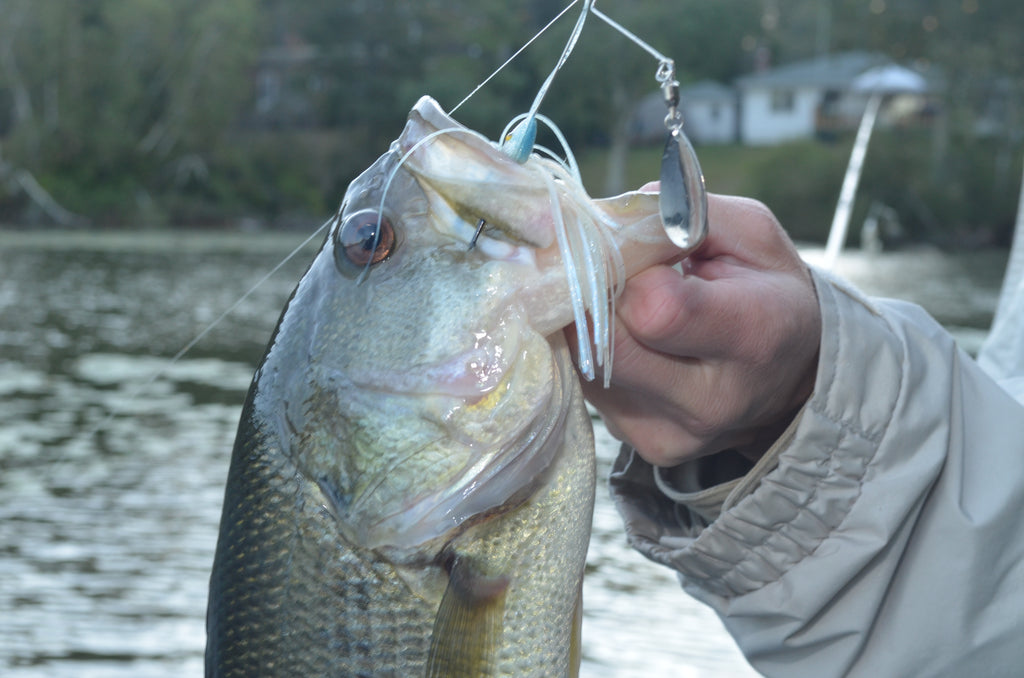 You would think most Long Island sweetwater anglers would find dropping water temperatures to be the lead point of difficulty come October. After all, we'll start the month with pond temperatures mostly in the mid-60-degree range and likely finish it seven or eight degrees cooler. While those types of changes can awake the appetites of crappies, perch, trout and pickerel, they can also put a serious damper on the early fall bass bite if they occur too rapidly.
Fortunately, most serious bass anglers these days have a pretty good idea of how to deal with cooler water temperatures and sudden cold snaps. Fish slow, fish deep, work smaller lures, stick with soft plastics or hair jigs, and concentrating efforts around any remaining green vegetation are the usual themes that provide for a steady pick of fish as we await a couple last warm fronts to slide through, heat the surface and spark a feeding binge. Keep at it and you can often put together a decent catch before the day is out.
It's okay to tuck into the lee on a windy day, but at some point you should at least give the open water a try. Some days a stiff wind will wake up bass far off the banks. Photo by Tom Schlichter.
Windy weather, on the other hand, really seems to confound some bass fans. Whereas saltwater surfcasters love a stiff breeze because it often pins baitfish against the shore resulting in blitz-fishing conditions with stripers, blues and false albacore, many members of the bucketmouth brigade avoid strong winds like the plague.
Certainly, windy weather has its downfalls. It's tough to cast against, hard to stay in place long enough to put your lure exactly where you want it, and it can even be difficult to reel in your offering at the proper speed and perfect trajectory as the breeze blows a big bow in your line. On the other hand, stiff winds churn up the water's surface and infuse it with fresh oxygen while a small chop can bust up or disorient baitfish schools and make it more difficult for bass to see you standing on shore or casting from your deck. Bigmouths also have to make up their minds quickly if they are going to take advantage of a baitfish – or lure – getting bounced around on, or just below, the surface. Each of these factors can actually tilt the odds in your favor.
Naturally, it makes sense to fish in the lee of a hawkish wind, when possible, but there are also times when it pays to lean into the challenge. You might be pleasantly surprised at the results if you push up into the wind, drop anchor and cast straight into the teeth of the breeze. This approach often works well at the mouth of a cove, dead-center in channel that divides two weed lines, or at the edge of a flat adjacent to deeper water. While you're at it, try taking a couple of casts downwind, too, just to keep the fish honest and to see how far you can chuck an offering. Always, however, keep safety first and foremost in your mind. There is a point for every angler at which strong winds are simply too much to battle without entailing undue risk. Be aware of that point, and never cross it.
While the above is kind of a scattershot approach to dealing with breezy weather, there are small but specific adjustments that can also reap rewards. One is to throw larger and brighter colored lures. A big Rattletrap in red or chartreuse, or a white perch pattern Rapala Shad Rap, can work really well on deeper waters like Lake Ronkonkoma, Laurel Lake or Fort Pond in Montauk. Large, brightly colored spinnerbaits are another option and tend to work well in the shallower lakes and ponds favored by the kayak crew. If water temperatures haven't fallen too much, you might even work up some late-season surface action with a Lime Frog pattern Rapala Skitter Pop or large perch-pattern Jitterbug. Work the Skitterpop with a steady rhythm and occasional short pause. Churn the Jitterbug across the surface just fast enough to continue moving forward with its classic wobble. You won't catch many bass with this option so late in the season - but the ones you do hook can be bragging-sized lunkers.
Yet another good lure for working into the wind is a 6.5-inch Zoom Trick Worm or 6-inch Gary Yamamoto Senko worm. Rather than rig these "wacky style," however, go with a weedless Carolina presentation. This set-up is nice and heavy, so it will cast a mile and still allow you to feel the slightest bump as you twitch it ever so slowly on a tight line. If you can't get the worm to sink enough or come tight at the end of your line due to the wind, simply add a couple of split shots a foot ahead of the hook to settle it down.
Don't let the wind keep you from trying for October bigmouths. Head right into it and cast big lures or crankbaits in open, deep, water. OutdoorTom.com photo.
Challenging the wind can work well for bigmouths if you give it a chance. On Lake Ronkonkoma and Fort Pond, however, it's also a great way to target walleyes. While bass can be pulled from windy areas with some focus and hard work, walleye seem to actually relish a stiff breeze. Look for them to stack up over ledges, channel edges or along significant contour breaks - especially in areas known to hold a few white perch. You can then target them with Bill Lewis Rattle Trap Lipless Crankbaits, Rapala Shad Raps, Rapala Countdown Minnows, a curly-tailed original Mr. Twister, Berkley Power Bait Grub, or Trigger X Swimming Grub. With the grub selections, simply impale a 3- to 5-inch grub on a 1/8-ounce jighead, cast out and let it settle to within a foot or two of the bottom. Retrieve the grub at a fairly slow retrieve, occasionally allowing it to settle and set the hook at the slightest bump.
Of course, October also sees some fall trout stockings and the fresh additions will often bite well even in breezy weather. The big winner here is McDonald Pond in Hempstead Lake State Park, which annually hosts the NYS DEC's I FISH NY Annual Fall Family Fishing Festival (https://www.dec.ny.gov/outdoor/27123.html). The event features plenty of stocked trout, free fishing for the day, loaner rods and reels for those who need them, plus free bait, fishing instruction and seminars. For 2022, the event is scheduled for Saturday, October 15.