2020 Fall Inshore Preview
2020 Fall Inshore Preview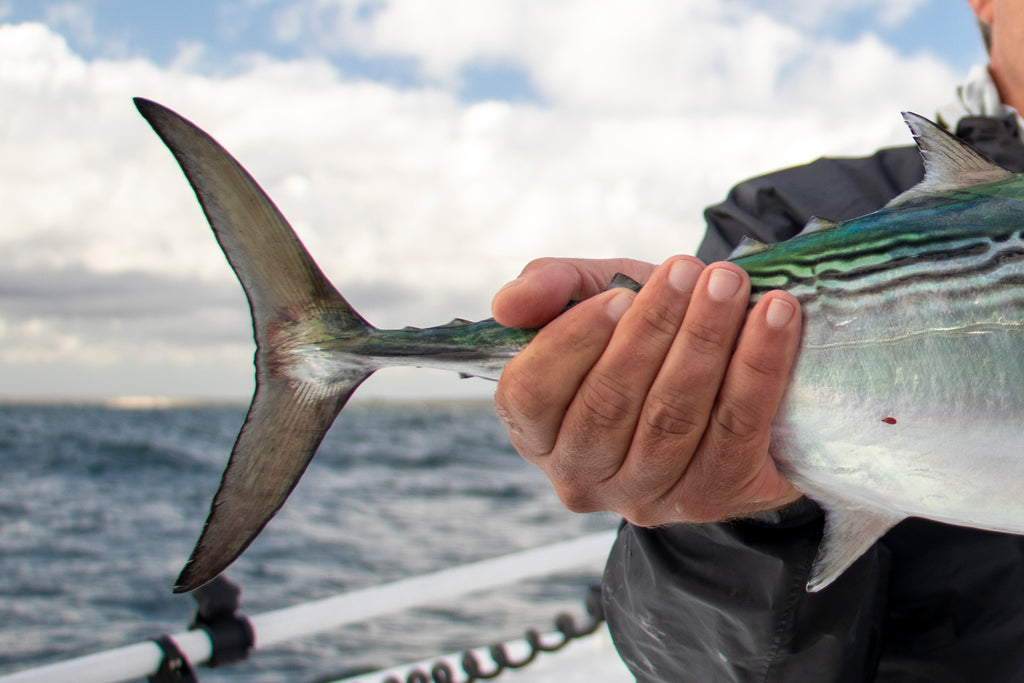 It may have taken an extra week or two to get started, but there's no doubt the fall blitz is beginning to kick in on Long Island's East End. Heading toward mid-October, action is rounding into prime from with stripers, bluefish and false albacore chasing lures for anglers fishing from boats or the shore. The bottom game, too, seems ready to explode with plenty of porgies already on tap, sea bass still in play, blackfish moving inshore, plus ling, hake and a few codfish on
the offshore grounds.
Striper season should be in full swing by late October. Diamond jigging is a favorite way to work them up from the depths. Photo by Jeff Lomonaco.
No doubt the next few weeks will see some super fishing, but let's do a quick check of the rules before we go into more detail. For starters, stripers are fair game in marine waters through December 15 but carry a slot size of 28" to 35" inches. Any bass measuring less than 28" or more than 35" must be immediately released. For bluefish, there is a three-fish limit but no minimum size in effect for all sizes, including snappers, unless you are fishing from a party or charter
boat. In the latter case you can keep five fish. Porgy remain in play year-round with a 9" minimum size limit and 30-fish creel limit for shore fishermen and private vessels. Anglers fishing on open or charter boats can, however, keep up to 50 scup per day through October 31 before the creel limit on the for-hire fleet returns to 30 per angler. Black sea bass season runs through December 31 with seven fish creel limit and 15-inch minimum size. Blackfish regulations,
meanwhile, differ for fish caught in Long Island Sound as opposed to elsewhere New York's marine district. While the minimum size limit for blackfish is 16 inches in all New York waters, the fall Long Island Sound season begins on October 11 and runs through December 9 with a three-fish possession limit. For other waters in New York, the season begins on October 15, runs through December 22, and has a four-fish possession limit.

With the fall push of stripers having arrived a littler later on the scene than usual this year, chances are we will have a short but sweet remainder of the season, so it's probably a good idea to get right on these fish as soon as possible. Tins, poppers, bucktails and soft-plastic swimbaits are all solid choices during October and early November while bunker chunks and clam baits may produce more big fish as the days grow short late in the season or during and immediately following windy stretches when the water gets discolored. Live eels are another option, of course, especially at the
inlets and in the rips off Montauk and Orient points, but the snake bite late in the summer and through the early fall has been off a bit so don't hesitate to make a switch if the eels are not lighting-up the cows. Live bunker, on the other hand, is always a great option for keeper class bass as the linesiders make their way west along our beaches. Snag & Drop fishing, in fact, may be the fastest route to a trophy fish between now and mid-November.
Whether you catch them from boats or from shore, false albacore are a challenge anglers relish on both spinning and fly-casting gear. Photo by Ethan Ostrander and Jeff Lomonaco.
Like the bass, false albacore took their time getting up to speed this year. Numbers have been fine at Montauk, but fishing around the inlets, along the beach and on the North Fork has been inconsistent. That should change as we push though mid-October but, as with the bass, get on these fish as quickly as possible for a strong blow after Halloween can send the pods scurrying south in a hurry. If you've never tangled with a Fat Albert, as the little tunny are also known,
you need to hook into a few. Super-fast, they smack lures and streamer flies with a vengeance and race away at breakneck speed. Don't panic after setting the hook – just let your fish tear out drag. It might run for 30 yards or more before stopping for a breather, but it will tire if you just hold your ground. Albies weighing up to five or six pounds usually have two real strong runs in them, plus a few shorter spurts; large Alberts often have three.

With the albies, smaller lures are generally best as the key is to imitate the sand eels, spearing and bay anchovies that are pushing through our waters on their way south. To that end, thin-profile selections like Hogy SI Epoxy Jigs, Albie Snax, Deadly Dicks and Fin-S-Fish – or the new Fat Cow Fat Minnow Resin jigs - are great choices. Top flies for false albacore include Epoxy Minnows, Clouser Minnows, Albie Whores, Crease Flies, Flex Candies and Slim Deceivers. You can find all of these options here at White Water Outfitters, both in the store and online.

While bass and albies should be in good supply this fall, bluefish – especially big ones – remain an enigma. Although a few alligator- and gorilla- class choppers did make the rounds in late August and early September, they have been largely missing from the East End scene so far this fall. That could change in a tide or two, but don't hold your breath waiting for them. No doubt smaller blues in the 2- to 6-pound class will increase in availability over the next few weeks, however, so if you yearn for those vicious strikes and surface explosions you'll likely still get your fill. Poppers, bucktails and tins are the way to go when the choppers are around as they'll shred most soft-plastic offerings. For added fun, try scaling down your tackle so as to not over-match the mid-sized choppers. Crushing down the barbs on
your hooks or using single-hook lures will also make it easier to release any toothy blues you don't plan on taking home.

As for the bottom fishing, porgy action has been great this year through the spring, summer and early fall, so there's little doubt it will be stellar through October and into November. If you still haven't put away enough fillets, now's the time to make one last trip or two and load up. There are still some scup to be had inside Peconic Bay, at the back of the inlets, and along the North Fork, but by late the best action will slide out into deeper water and the nearshore wrecks. Clams and a couple logs of clam chum are all you need to get the action started this time of year. One note to keep in mind with the scup: the later season tends to see smaller fish on the inshore front, so head out as soon as possible if you want to score a bunch of jumbos.

What to expect of blackfish? Well, the short spring season was actually pretty good and, just prior to the opening of the
fall season on October 11 (Long Island Sound) and October 15 (everywhere else in the Empire State), we herd reports of a few boaters that lightly "tested" the waters and found the fish present and chewing (all were released). So, it seems like we can expect a good start. With the water still pretty warm – mid 60's in most areas – it's likely the best initial catches will be in 20- to 40-foot depths before briefly moving closer to shore in some areas through the end of October. After that, expect the fish to begin migrating back out to deeper water, adding another 10 feet of depth to their hangouts
every two weeks or so.
It looks like we'll have a solid start to the blackfish season this fall. Big ones like this are certainly trophies but smaller ones taste better. Considering releasing your biggest 'tog and creeling some "mediums" for dinner. Be aware, too, that blackfish regulations vary between Long Island Sound and other parts of New York's marine district. Photo by OutdoorTom.com.