The Skinny on the Conny
The Skinny on the Conny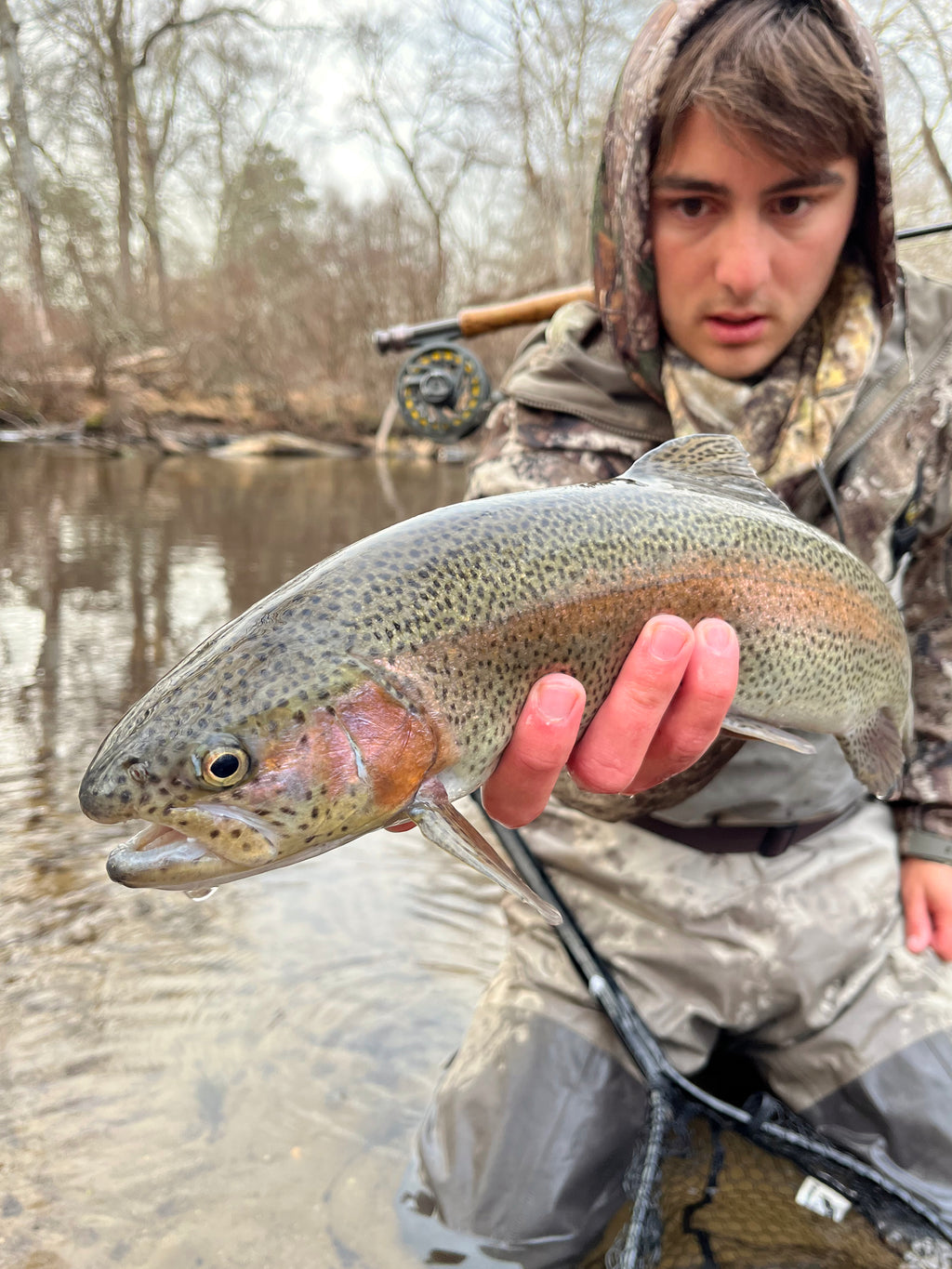 No doubt catches get a little lean come winter on the Long Island fishing front. Sure, you can play around with some white perch in tidal waters if you put in the time to find them, take a trip or two for offshore cod if the weather allows, or even get a quick shot at hard-water fun if a decent cold spell puts up a sheet on your favorite lake or pond.
Still, there is one place that consistently provides solid action from the holiday season right through the spring with solid scores of quality fish the norm more than the exception. We're talking Connetquot River State Park Preserve in Oakdale, and it's a world-class trout stream chock-full of home-grown rainbow and brook trout of which quite a few attain trophy status, especially during the winter months when an occasional sea run fish returns to the park waters.
Connetquot is known to be home to some very large brookies. Photo: Chris Angelone
Plenty has been written on this beautiful waterway, which slices through the heart of the 3,473-acre parkland. In addition to the trout here, you'll find deer, fox, waterfowl, osprey, hawks, turkey, a variety of rare plants in the summer months, as well as over 50 miles of hiking, bridle, cross-country skiing and nature trails. It is, however, the fly-fishing-only trout action that draws the majority of visitors on a daily basis to this suburban oasis, and some believe that the winter months are prime time being fish are easy to spot in the cool, clear water and an occasional sea run rainbow weighing five pounds or more is a distinct possibility.
Prime example of a lower river Connetquot sea-run rainbow caught in mid-winter by Jeff Lomonaco.
With thoughts of mid-winter action with potentially big trout foremost in mind, here's the skinny on fishing the "Conny" from December through March. Think of the following as a cheat sheet for cold season fishing here. For more info on the park's history and year-round fishing possibilities, be sure to also check out our Testing The Conny Blog Post. It will take you from March through spring, summer and fall.
Access: Entrance to the part is from the westbound lane of Sunrise Highway (Rt. 27) in Oakdale. For winter sessions, the park is open for two four-hour flyfishing-only sessions, Tuesday through Sunday, 8 a.m. – 12 p.m. and from 12 p.m. – 4 p.m. There is an $8 parking fee, and $25 charge for each fishing session. A NYS freshwater fishing license is also required. Reservations are recommended but not required. Fishing spots or "beats" are assigned on a first-come, first-served basis. Those with reservations get to select first. For additional information, visit the NYS parks website. To make a reservation, call 631-581-1005.
Basic Gear: Start by dressing in layers to stay warm. Even a relatively pleasant 45-degree day can turn chilly fast during the winter months. Wading is allowed in the beats below the hatchery, but not above, so toping off your winter outfit with a pair of hip boots or, better yet, insulated waders and boots, is always a smart idea. Simms Tributary waders and wading boots, or Freestone waders matched to Tributary boots, are solid entry to mid-level options for waders and available at our shop. Choosing a jacket and fishing pants that are both waterproof and warm is another good idea. If you're in need of a fresh insulating layer, wear fleece pants, wool socks, and the Simms Fall Run Jacket we have at the shop.
Dress warm - in weather like this, you'll only want to remove your gloves for handling fish.
In terms of fly-fishing outfits, you'll want to go a little heavier than you might for catching the stockies that DEC plants in local ponds, streams and rivers each spring and fall. The majority of trout you'll connect with in these fabled waters will likely measure between 10 to 16 inches, but 20-inch fish are not uncommon and 5- to 8-pound fish are a possibility, especially during the winter months when an occasional sea run finds it's way back upstream from marine waters. Only rainbows and brookies are stocked at the park these days – brown trout stockings have been discontinued because the big ones eat too many brookies. However, you may occasionally find one lurking.
If you need to gear up, consider looking at our four or five-weight Redington Path Fly or TFO NXT combos for something simple to get started. If you want to get a little more serious, the TFO Signature Series II, or Pro II series are great cost-effective rods. Combine these with a TFO NXT or Redington Behemoth reel, and a Rio Trout fly line, and you're set to go. Stop in if you have any tackle questions and we'll steer you in the right direction.
Be sure to also bring a landing net, and a forceps to make corralling and releasing your catch a generally sane endeavor. Fish Pond makes the Nomad, it's a high quality, easy-to-handle net for waders. Choose the mid-length size if you generally target bigger fish.
Big fish require big nets. The Fishpond Nomad Mid-Length helped seal the deal on this chunky winter Connetquot rainbow.
Best Beats: Key spots for big fish in the winter season at Connetquot include beats 9 through 15, but any of the first several beats below the hatchery are likely to hold decent fish. These areas offer some deeper cuts and the largest trout are especially fond of holding in pockets found tight to the bank. Even during the winter, Connetquot sees significant pressure, so if the obvious runs aren't working for you, make it a point to shoot some casts in the tough-to-reach pockets other anglers avoid.
Top Flies For Winter Trout: You'll catch both rainbow and brook trout on the Conny, the vast majority stocked from the on-site hatchery. For the most part, you'll score best with a selection of beaded patterns during the cold-water season, especially if hoping to connect with a trophy. The big bait, big fish theory definitely holds true, here, too.
If your goal is to simply have fun and connect with a few fish, smaller, darker bead-head or quick-sinking patterns in sizes 10 to 14 are standard producers. Consider a Hare's Ear Nymph, Zug Bug, Black or Gold Stone Fly, Copper John or Pheasant Tail Nymph, for example.
The Bead Head "Copper John" nymph - a great choice for dead-drifting below an indicator.
To increase your odds of connecting with bigger trout, it's hard to go wrong with a bead-head olive or black Wooly Bugger streamer, Mickey Finn, Zonker, Black or White Marabou Ghost or Matuka in sizes 6 to 8. Size 2 Egg Sucking Leeches. Size 10 or 12 San Juan Worms, and Squirmy Wormy patterns work well, too. Note that bright colors often work well if the water is murky following a rain event, and any of the bead head patterns can be fished on a dead drift. We are well-stocked with leaders, tippets and patterns that work well on the Conny.
Additional Tips: Connetquot's trout may be mostly hatchery-raised fish, but they wise-up quickly due to the near constant fishing pressure. For that reason, use a long, 9- to 12-foot fluorocarbon leader if possible. Go light, too, for best results. A 5x or 6x tippet is plenty strong enough for most encounters, although you can go a little heavier if targeting a specific lunker whose haunt you have discovered.
Be sure to drift nymphs tight to the bottom. Streamers should be worked deep, too, but a sharp, herky-jerky action toward the mid-point in the retrieve can often spark a late strike. After setting the hook, keep constant tension on the line but don't try to overpower a big fish as you might pull the hook or split the leader. On the lunkers, adding some side-to-side rod movement as you wrestle the fish to within reach helps to keep the fish guessing and can lessen the number of stiff runs toward snaggy edges, exposed roots and other obstructions that can quickly part you from a trophy.