Take Aim At Triggerfish
Take Aim At Triggerfish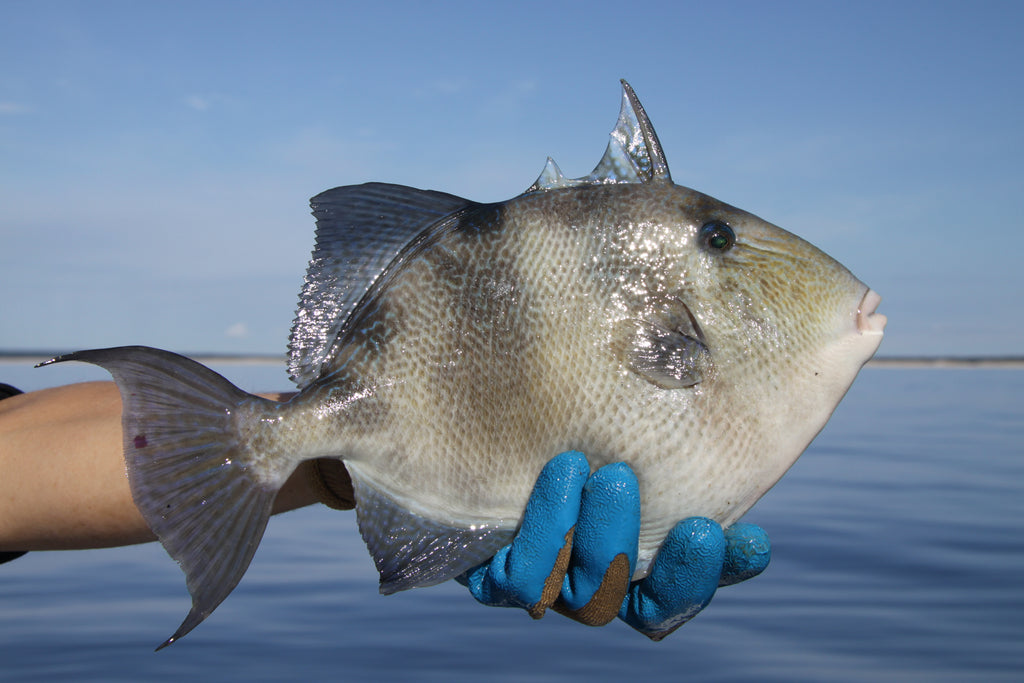 Have you caught your first triggerfish yet?
A lot of local anglers have over the past few years, especially here on Long Island's East End. For those of you who have gone without, fret not, for the warm waters of late August and September mark the peak of the triggerfish invasion. From the banks of the Shinnecock Canal, to the rock jetties lining South Shore inlets, these tasty battlers are showing up in increasing numbers every year. Most are caught accidentally by anglers trying for porgy and sea bass, but there are enough around at this point to target them intentionally.
Because of those powerful dentures, care is required when removing the hook from these tasty brawlers. Here, a mate aboard the open boat Shinnecock Star gets a little help to keep things under control. Photo courtesy of OutdoorTom.com.
Where are all these triggerfish coming from? Some speculated they are sliding up from down south in response to warming waters brought on by climate change. These are gray triggerfish, however, a species indigenous to the Northeast and Mid-Atlantic states, so it's more likely the species is simply reclaiming old territory it ceded sometime in the past. Confusion results when anglers take this species to be the queen trigger, a true southerner which is much more colorful and often larger than our somewhat drab-looking typical 1- to 3-pounder.
Essential to catching triggers on a consistent basis is finding suitable structure. For this, start with your favorite blackfish or sea bass bottom. Begin by prospecting the deeper pockets around inlet jetties, looking specifically for any place where you've pulled 'tog in the fall, or for areas where boulders or protrusions deflect the current. Deep, dark water, tight to a rock wall or bulkhead, can also be a trigger hot spot, especially if it creates a small shadow line on a late-summer afternoon. 
Typical triggers weight 1 or 2 pounds, but they can top 4 pounds in Long Island waters. A fish like this can easily cut through a fine-wire hook. Photo courtesy of OutdoorTom.com.
Next on the hit list should be any type of submerged wooden structure located on hard or sandy bottom within a mile or two of a major inlet. Small, sunken wood boats are ideal for this, as are submerged pilings and chunks of debris from past storms. The pilings and bulkheads around docks and piers also offer a shot at triggers, as do bridge abutments and mussel beds. Old Ponquogue Bridge on Shinnecock Bay is a classic example of prime triggerfish habitat, incorporating many of this bucktoothed prowler's favorite home base elements.
What do you need to battle this compact, tasty brawler? Your favorite shallow water blackfish setup with 12- to 20-pound test, abrasion resistant line should suffice. If casting from shore, give the nod to spinning gear. For vertical fishing from boats, docks and bulkheads, conventional gear offers a little more power and control. Triggers have bony mouths with large buckteeth and require a bit of backbone in the rod to really set the hook so it's better to go a little too heavy than a little too light.

On the terminal end, a simple tandem rig, or hi-low rig with the top hook set about 12 inches above the sinker are fine form most situations.. Keep the dropper loops tight to the main line to reduce snagging in sticky structure. Sinker weight varies based on current strength, of course, but 2 or 3 ounces should be enough inside the bays while ocean reefs and wrecks may require 4 to 8 ounces to hold bottom. For fishing buoy chains, attach a single hook to a 3- to 5-foot length of 20-pound test fluorocarbon leader. This rig allows a bait to sink at a natural pace – something free swimming triggers relish – while affording a little bit of end game protection should your line rub against a rock or buoy chain during the heat of battle.
As for hook selection, solid choices include a size 6 Mustad Pacific Bass hook, a #7970, or a size 8 Virginia, #1 Gamakatsu Octopus. Larger triggers can bite through thin-wire hooks and gold beaks meant for porgies and sea bass but these three all provide a fighting chance when the bruisers come to town.
Great bait choices for triggerfish include squid tentacles for sight-casting and presenting a natural drift around buoys, and small strips of chowder clam for targeting bottom huggers. Note the small but thick-shanked hooks. Photo courtesy of OutdoorTom.com.
For the most part, bottom hugging triggerfish are tempted in the same manner as blackfish and sea bass. From a boat, anchor-up (double-anchoring or using "spot lock" is a good way to fix your location on a specific point of structure,) lower a ribbon of clam or a 3-inch segment of worm to the bottom, and keep your line still until you feel the bite. With clam baits, triggers tend to start with a light tap or two before taking a hardy grasp of the hook. With worms, the bite is sometimes softer, but more singular - in other words, no love taps. In either case, upon feeling the weight of the fish, strike hard and get your rod up over your head to turn the fish away from the structure. Now just hold on tight as the trigger makes a mad dash for the bottom, slows and pumps for a minute, and then heads for the bottom again. Withstand these initial surges and its "game over" for your quarry."
Being that local anglers are still just getting to know these tasty bottom brawlers, a couple words of caution are in order. First off, respect those teeth. Triggers have powerful jaws that exert tremendous pressure. Don't let youngsters anywhere near them.
Next, be prepared to do a lot of work when cleaning your catch. Triggers have an extremely tough hide - many anglers use sheetrock knives to break the skin - but a regular fillet knife will get the job done if it's kept sharp and you start the cleaning process via the anal vent.
Lastly, note that there are no size or creel limits in New York waters for this tasty and worthy adversary. Let your conscience be your guide.
The triggerfish bite is already well underway this summer. If you need help figuring out where and how to catch a few, stop by the shop and we'll be glad to clue you in on local possibilities.