EARLY SPRING OFFERS INTERESTING POSSIBILITIES
EARLY SPRING OFFERS INTERESTING POSSIBILITIES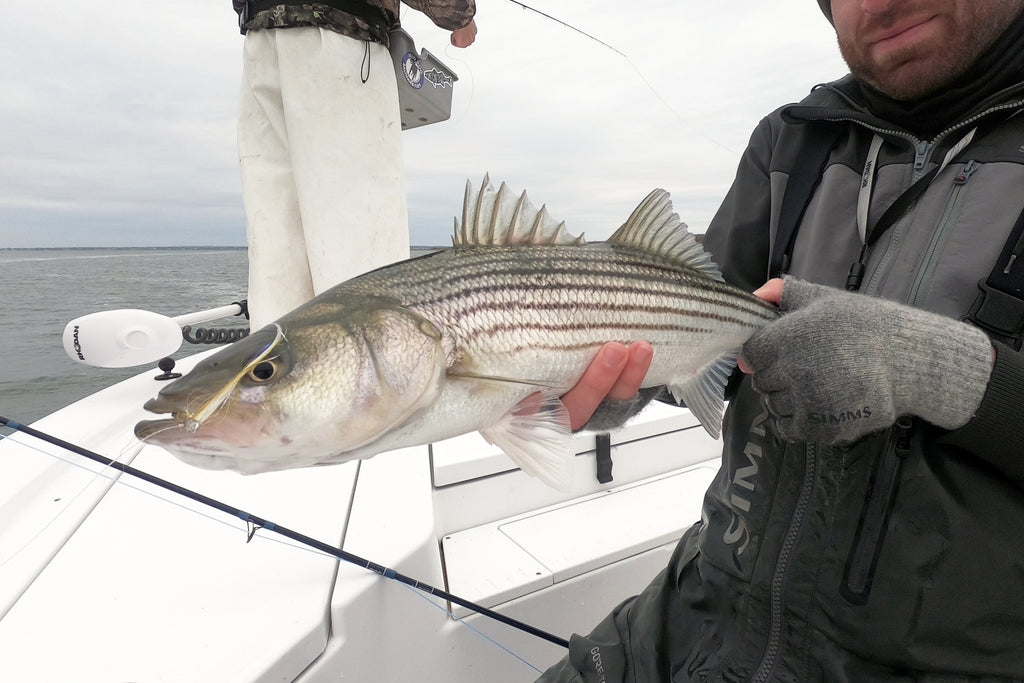 Hopefully you've by now squeezed in your fill of winter wreck fishing. If not, don't panic, there is still some time to load up on deep-water porgies, ling and, perhaps. a few bonus cod and pollack - but act fast because each week pushing deeper into April will likely find the action a little less reliable. To be sure, mid-spring can still  produce some surprisingly solid offshore scores – even with cod - but the longer you wait at this point the more inconsistent the results are likely to be.
Of course, one of the best things about March and April offshore trips is that the weather is generally warmer than it was back in January and February. The downside is that it can be even more windy. That equates to more blow-outs and decent-looking days that grow rough after you've left the dock. As always when heading offshore choose your days judiciously and, if you and rough water don't always agree, consider cutting in a little sea sickness medication an hour or so before the boat even leaves the dock.
School stripers are always on the menu in April and May. April 15 is the official opener for NY's marine waters. OutdoorTom.com photo.
When possible, it's also a smart idea for deep water fans to avoid full moon and new moon dates as the current pushes strongly during those periods, making it tough to hold bottom. On the flip side, the combination of falling barometer, calm seas, cloudy skies and half-moon tides is tough to beat.
No doubt striper fans are already on patrol. The season for marine waters officially kicks off on April 15. By then, resident fish in South Shore and East End tidal creeks, plus the back-harbor waters on the North Shore, should be making their presence known. This action should build through the end of the month with the fish eventually fanning out to meet migrating arrivals, including some bigger fish, on shallow flats across Long Island by the start of May. Smaller soft-plastic swim baits including Lunker City Fin-S Fish, Bass Assassins, and Hogy Original Series Soft Baits can really do a number on the schoolies and an occasional keeper, as can small Clouser Minnows or slim Deceiver patterns presented with the long wand. For those willing to run west to Raritan Bay, bigger bass should be rule. Here, however, trolling is the usual modus operandi, with Mojo rigs among the most productive offerings. We suggest trying Magictail Mojos or Magictail Tandem Mojo Rigs.
Raritan Bay stripers light up toward the end of April. Trolled Mojo rigs draw a lot of strikes. . OutdoorTom.com photo.
There are, of course, other choices available during March and April. Landlubbers, kayak paddlers and jon boat fans, for instance, can punch up some impressive catches of white perch in Long Island's South Shore tidal creeks. In fact, perch action should be reaching a peak right about now as they tend to respond well to even the slightest warming trends. Finding the silvery panfish can be a hit-and-miss proposition which favors hit and run prospecting. Find a potential perch holding tidal creek or river mouth, make a few casts, and move on to the next fishy looking spot if you don't draw a strike after a dozen or so thorough casts. Look for the perch and an occasional school bass to hold where creeks bend or pinch and a small swath of bottom is carved away by the current. Don't overlook small bridges and culverts as being possible honey holes.
Rigging for white perch is best kept simple. Use a standard bottom rig with a one-quarter to one-half ounce bell sinker and a size four, pre-snelled beak-style hook tied in six to ten inches above the weight. You can cast this rig as far as you'll ever need with eight- to 12-pound test lines on spinning setups suited to freshwater bass or trout fishing. Half a night crawler works great for bait. If you want to make perching more challenging, go a little lighter in the tackle department by opting for four- to six-pound test line and a one-eighth-ounce jig-head sporting a small curly-tailed Berkley Power Grub.
Be aware that it is possible to put a hurt on the perch population by removing too many, so don't get greedy. There is no shame in letting the small ones go, or in putting back the big, egg-laden breeders that you'll catch this time of year. Go ahead and take a few for dinner, just keep it reasonable so others can have some fun. 
Trout are another early season possibility. In decades past, most Long Island trout ponds received their initial deposits of rainbows and browns in April. That's been moved up to March in recent years for most waters, with supplemental stockings through April and, in some cases even May. Berkley Power Bait, a 2-inch segment of nightcrawler or small cheese ball all work as bait while small Inline Spinners or 1/12 to 3/8 oz. Acme Kastmaster tins and lightweight gold spoons get the job done in terms of artificials. The tins and spoons are a good choice for making long casts off the bank in blustery conditions while the spinners are a solid choice for presentation under more gentle conditions. In any case, a lightweight, 4-pound class spinning outfit is the way to go. Stop in at White Water Outfitters if you need help putting together an outfit.
This nice brown smacked a Panther Martin spinner at Belmont Lake. OutdoorTom.com photo.
An interesting pattern we've noticed over the years with the trout is that gold-colored tins and spinners with gold blades seem to tempt more browns while silver or brightly colored tins and blades are favored by the rainbows. This seems especially true when it comes to the larger 2-year-browns that many waters receive as a supplement to the yearling 'bows. The key with either color lure is to retrieve it slow enough that it digs slightly into the water column and fast enough to stay above the weeds. If you get overly frustrated from the weeds, a switch to a small Rapala X-Rap or Rebel minnow in silver and black, bright blue or rainbow trout pattern may also draw some strikes.