Bring On The Spring Bite
Bring On The Spring Bite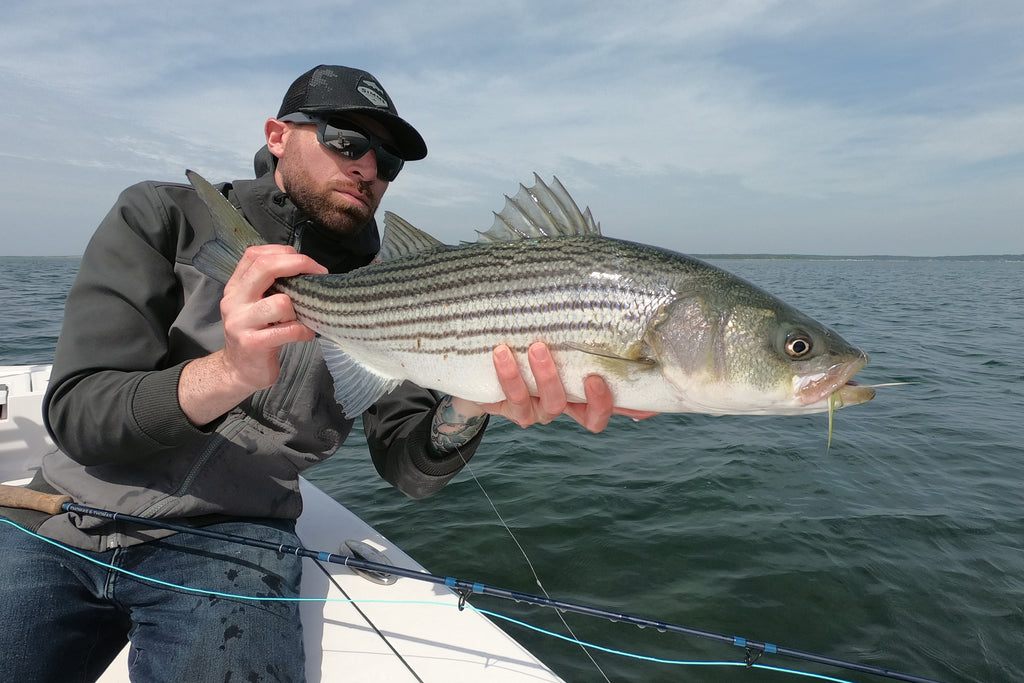 It sure seemed as if spring was a long time coming this year but now the action has busted wide open. Where are you pointing the bow on your initial trips and which species will you target? Come on, now, you've had all winter to think about it so this should be an easy one. Will it be fluke, porgies, stripers or weakfish? These players, it would seem, will be the logical best bets for the spring season.
To be sure, all of the above gamesters should be in play over the next few weeks across Long Island's East End. Finding at least a few of them to get the rods bending in late May and June shouldn't really be hard for the spring season in recent years has witnessed some stellar action, especially with the scup. Before you head out to join the fun, however, remember to make sure you've signed-up for New York's free Recreational Marine Registry – it's required for all saltwater fishing. Also be certain to check out the DEC's latest rules and regulations as pretty much every year sees some changes.
GOTTA WORK FOR FLUKE
Fluke are always of great interest during May and June on Peconic Bay, Shinnecock Bay and Eastern Long Island Sound. To a large degree, this is because the early season offers a shot at some truly large fish. Every spring sees at least a handful of true doormats – some weighing double-digits - kick off the action in the Peconics. Look for these, along with a shot of mini-doormats in the 4- to 6-pound class, off The Greenlawns and Jessup Neck before the waters of Greenport Harbor, the Oyster Factory, Bug Light and Cedar Point Light come into play later in the month. 
Photo by OutdoorTom.com
By June, Long Island Sound should be waking up with the waters west of Mattituck Inlet starting to produce some fair action. Bigger fish, but fewer in general, can also be picked at Horton's Point for those who are willing to put in the time. Shinnecock Inlet also sees good action this month, with some fine shallow water fishing on the channel edges west of Ponquogue Bridge and in the cut just east of Shinnecock Inlet. Gulp! Swimming Mullets in white, Saltwater Shrimp in new penny, and Saltwater Jigging Grubs in nuclear chicken all get the job done, as will squid strips or bucktails tipped with squid or fluke belly. If you want to limit your efforts to targeting doormats of 8-pounds or more, fresh whole squid is tough to beat but you'll need to fish them with an extra dose of patience.
Photo by OutdoorTom.com
PORGIES ON PATROL
No doubt porgy, also called scup, have been in good supply this spring. Stocks this tasty little brawler remain high at this point and the spring run brings plenty of "plate-sized" jumbos in the 12" to 14" class with an occasional brute pushing up over 16" as well. 
Rodgers Rock, South Race and North Race, all in the vicinity of Robins Island, are tough to beat early on with the Greenlawns and Jessup Neck setting up next and holding the best of the bite well into June before the fish spread east and spill out into Gardiners Bay, where Cherry Point offers some of the biggest scup you'll ever see.
Photo by OutdoorTom.com
Straight up, bottom-fishing with a hi-low porgy rig and squid strips or clam baits is the way to quickly haul your limit of scup, but if you want to have a bunch of fun, we suggest jigging them with ½- to 1-1/2 ounce S&S Fish Head bucktails or Spro Squidtail jigs tipped with squid. To add additional challenge, try jigging these fish on freshwater bass gear or the lightest saltwater spinning setup you own. Either way, you'll be impressed with the stubbornness this species can display once it feels the point. Look for spring action to center in relatively shallow water depts of 8 to 20 feet. Get the anchor over quietly, gently lower a pot of ground chum to the bottom, and see if you can catch a scup in your first minute of fishing.
STEADY SPRING STRIPERS
School stripers flood the East End bays every spring with creek mouths and adjacent flats offering hot action as warm outgoing water flows into Shinnecock and Peconic bays. No doubt, there are fewer bass around than several springs ago, but your odds of connecting on a regular basis remain strong.
In terms of targeting schoolies, 4" to 5" soft-plastic swimbaits like Al-Gag's Whip-It Fish and Bass Assassin Saltwater Sea Shads impaled on ½- to 1-ounce jig heads work great to start the season. As the water warms, you can also mix in some small surface lures including Creek Chub Striper Strike poppers, Hogy Charter Grade Poppers and Yo-Zuri Hydro Poppers. For after dark action with schoolies, consider also Berkley Gulp! Saltwater Jerk Shads.
While the schoolies keep the kids and novices happy, you can bet arrival of bunker schools will also tow along some bigger bass of note. Although many anglers know to key on the bunkers for bass measuring 30 inches or more, most will pass up schools that don't show any active signs of feeding. Often, in the spring, the big bass do their deeds without breaking the surface. Last year, in fact, saw some pretty solid encounters with linesiders to 25 pounds trailing deep behind bunker swarms south of Jessup Neck, inside Cutchogue Harbor, and throughout the South Race off Northaven. There were also some solid innings on the back side of Ponquogue Beach, not to mention the ever-reliable striper real estate that are the east and west jetties at Shinnecock Inlet.
Late May and June are also prime time for fly-casters seeking out linesiders. Those who probe the flats of Shinnecock, Little Peconic and Gardiners Bays can find some interesting action along channel edges early and late in the day on the first quarter of dropping water. Those who prefer to work around more solid structure should find some decent fish in the shadows of Ponquogue Bridge and around the busier docks of eastern Peconic Bay.
If you are looking to upgrade your striper, bluefish and false albacore fly-casting gear, we suggest checking out a Thomas and Thomas Exocett SS 250 (7/8-weight) rod, TFO Mangrove reel and Rio Outbound or Airflow Ridge Striper line. That setup plus a few Deceivers and Clousers will get you going for May while the addition of some larger Flatwing patterns will set you up for June and early summer action. 
WELCOME BACK THE WEAKS
No doubt a pleasingly strong spring weakfish run in the Peconics and, to a lesser degree, Shinnecock Bay, has been a welcome surprise over the past two years. The pattern has seen a few larger weaks in the 5- to 6-pound class put in sporadic appearances right around Mother's Day, with school-sized yellowfins ranging from sub-legal to about 22" dominating the action from late May through June.
To be sure, many anglers have been specifically targeting the weaks between The Forks in such popular haunts as Robins Island, Jessup Neck, Noyack Bay and Southold Bay, as well as off East Point, Pine Neck Point and the mouth of Tiana Bay within the Shinnecock Bay complex. Still, we point them out here more as an incidental note since you can keep only one per angler each day and a great many are caught in the process of porgy fishing and drifting for fluke.
Rather than go into weakfish specifics here, we suggest you check out our recent blog entry: Welcome Back Peconic Bay Weaks. It covers all you need to know to hook-up with these beautiful speckle-backed cousins of the southern seatrout.